Monday, November 6, 2017 -

3:30pm

to

5:00pm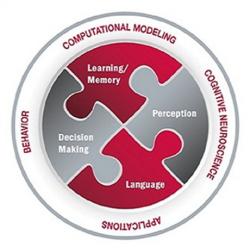 CCBS Student Org.
Meeting
Monday, November 6th @ 3:30pm – 5:00pm in University Hall Room 024
Join us for a discussion on Eliminativism about Attention
Everyone is welcome, especially students (undergraduates and graduate students) and post-docs!
Reading prior to the meeting is not required.
ABSTRACT: Given that the core issues of attention research have been recognized for millenia, we do not know as much about attention as we should. I argue that the reasons for this failure are (1) we create spurious dichotomies, (2) we reify attention, treating it as a cause, when it is an effect, and (3) we equate a collection of facts with a theory. In order to correct these errors, we need a new technical vocabulary that allows for attentional effects to be continuously distributed, rather than merely present or absent, and that provides a basis for quantitative behavioral predictions that map onto neural substrates. The terminology of the Bayesian decision process has already proved useful for structuring conceptual discussions in other psychological domains, such as perception and decision making under uncertainty, and it had demonstrated early success in the domain of attention. By rejecting a reified, causal conception of attention, in favor of theories that produce attentional effects as consequences, psychologists will be able to conduct more definitive experiments. Such conceptual advances will then enhance the productivity of neuroscientists by allowing them to concentrate their data collection efforts on the richest soil.
The article can be found here:
https://www.ncbi.nlm.nih.gov/pmc/articles/PMC3178817/
Anderson B. There is no Such Thing as Attention. Frontiers in Psychology. 2011;2:246. doi:10.3389/fpsyg.2011.00246.
Contact: consilienceccbs@gmail.com for more information.