April 26, 2022
Congratulations to the Winners of the 2022 CogFest Poster Session
Image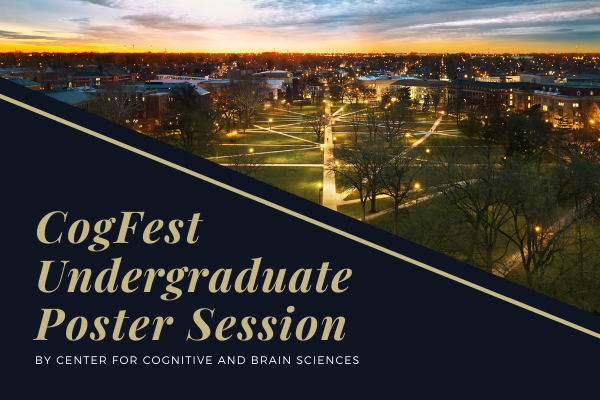 Description
The 2022 CogFest Undergraduate Poster Session was held on Tuesday, April 19 in the Thompson Library Campus Reading Room. This annual event provides a unique opportunity for undergraduate students to share their research with the Cognitive Science community at Ohio State and interact with faculty and students from across the University who are also working on questions related to human cognition, including learning, memory, perception, language, and decision making, from behavioral, applied, computational modeling, and cognitive neuroscience perspectives.
Congratulations to the Winning Presenters
1st         Devan Mallory 
      Major: Computer Science Engineering, Project Title: Cyquential AI: A generative approach to Symbolic Knowledge Acquisition
2nd      Rebekah Stanhope
      Major: Linguistics, Project Title: Examining Perception of Prosodic Contrasts in 7-12 Year Old Children
3rd       Arian Sorani
      Major: Psychology, Project Title: Does resting-state frontostriatal connectivity account for comorbidity between substance abuse vulnerability and trait  impulsivity?
The Center thanks all of the incredible undergraduate presenters who participated in this year's research event. We enjoyed your innovative presentations and wish you the best of luck in all future endeavors!
The Center also thanks our talented faculty judges, the Thompson Library, and University Catering for making this event so special. 
---