The application for the 2024 Poster Session will open in March. 
The Cognitive and Brain Sciences Undergraduate Research Poster Session is a signature feature of the Center's annual CogFest programming series. The poster session provides interaction between faculty and students from across the university who are exploring questions related to human cognition, including learning, memory, perception, language, and decision-making, from behavioral, applied, computational modeling, and cognitive neuroscience perspectives. This event recognizes the significant contributions to research made by OSU undergraduates and promotes ongoing research in the cognitive science field. 
Submissions involving undergraduate research in any area of cognitive or brain sciences are welcome. The poster session is an opportunity to share ongoing research with the cognitive science community at Ohio State and gather expert feedback on projects. If a research project is ongoing, a research-in-progress summary may be submitted in lieu of an abstract.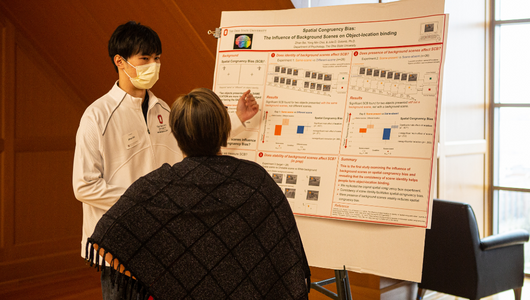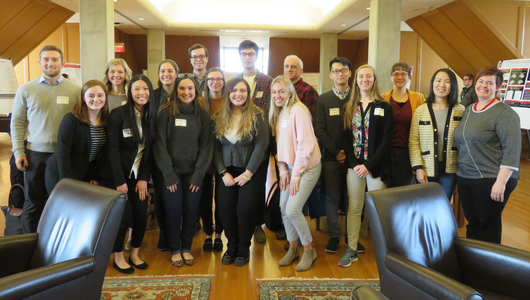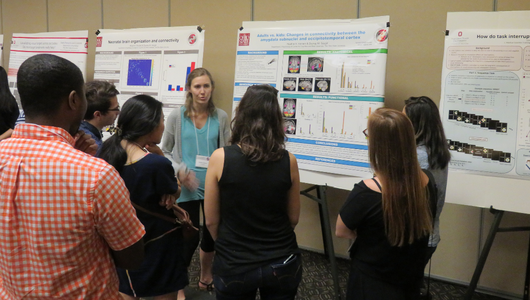 Congratulations to our 2023 Winning Presenters
1st: Michael Melville
Project Title: Light and vigorous bouts of acute aerobic exercise positively impact sustained attention and inhibition but not pattern separation in young adults
Major: Biomedical Informatics
Faculty Sponsor: Dr. Scott M. Hayes
2nd: Ajuna Mwesigye
Project Title: Relationship between brain response to language tasks and performance on behavioral metrics in children.
Major: Neuroscience
Faculty Sponsor: Dr. Zeynep M. Saygin
3rd: Phelix Rodriguez
Project Title: Are illusory objects used strategically to optimize visual working memory?
Major: Neuroscience
Faculty Sponsor: Dr. Andrew Leber
Presenters
2023 Presenters:
Ajuna Mwesigye - Neuroscience - Relationship between brain response to language tasks and performance on behavioral metrics in children.
Brenden Dalton - Neuroscience - The effect of repetitive neurotrauma on development
Dalia Einstein - Neuroscience and Psychology - Investigating the mediating role of the effect of chronic stress on working memory
Dean Orloff - Neuroscience - Curation of FOAMS: a Free Open-Access Misophonia Stimuli Database
Eva E. Shearer - Psychology - Using Number to Encode Space Reduces Item Recognition
Jessica Timog - Speech and Hearing Science - Lesion-Symptom Mapping of Semantics and Phonology in People with Aphasia
Mackenzie Siesel - Neuroscience - Investigating Individual Differences in Patch Leaving Strategy for Visual Foraging Tasks
Maddie Bloomquist - Linguistics with Honors Research Distinction - Examining Linguistic Behavior of a Virtual Museum Guide
Mengxin Ran - Psychology - The influence of a moving object's location on object identity judgments
Michael Melville - Biomedical Informatics - Light and vigorous bouts of acute aerobic exercise positively impact sustained attention and inhibition but not pattern separation in young adults
Nathan Hay - Music Theory - Establishing the Just-Noticeable Difference of Even Harmonic Attenuation
Phelix Rodriguez - Neuroscience - Are illusory objects used strategically to optimize visual working memory?
Shanvanth Arnipalli - Environmental Science - Amino acid compound nanomaterial improves survival brain composition in mouse model of Alzheimer's disease